The Details
Start:
June 26, 2021 @ 2:30 pm
End:
June 26, 2021 @ 3:30 pm
Add to Your Calendar:
ICAL
Venue
Fountain City Amphitheater
526 Avenue B
Bryan, OH
---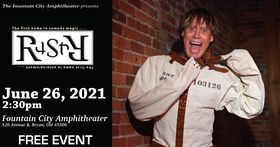 For most adults, the chance of realizing a childhood fantasy is so elusive, it seems like magic. For Rusty Ammerman, it IS magic. The comic and magician is now a regular, featured performer at the World Famous Magic Castle in Hollywood, CA, fulfilling a dream he first put on paper back in 1984 when he was asked his goal in the entertainment industry.