The Details
Start:
August 07, 2021 @ 12:00 pm
End:
August 07, 2021 @ 5:00 pm
Add to Your Calendar:
ICAL
Venue
Fountain City Amphitheater
526 Avenue B
Bryan, OH
---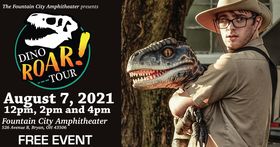 This interactive show is run by Roxie's favorite dinosaur handler and expert who will conduct a variety of fun games and activities.
​
The junior paleontologists will learn how to walk and roar like a dinosaur, get a chance to touch and feed Roxie, and more!
We will have 3 shows 12pm 2pm and 4pm. Each show lasts about 1 hour. We use animatronic dinosaurs and fossils. So come out learn about dinosaurs and get pictures with your favorite dinos!! Free Admission. Don't forget to bring your lawn chairs or blankets. Food Trucks will be available.