Fountain City Amphitheater
Girl Named Tom: August 19 @ 8 PM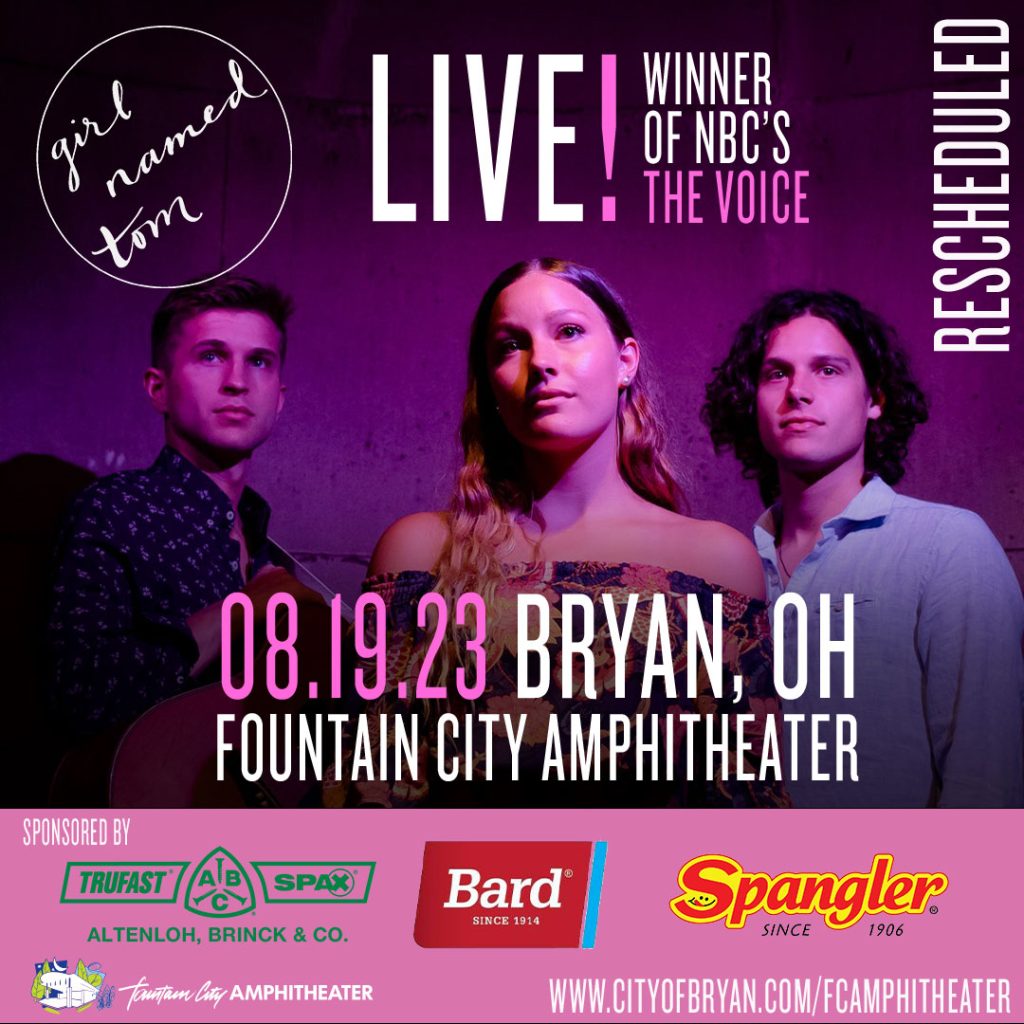 Your Title Goes Here
Your content goes here. Edit or remove this text inline or in the module Content settings. You can also style every aspect of this content in the module Design settings and even apply custom CSS to this text in the module Advanced settings.
See all of the events that the City of Bryan has to offer by visiting the City Calendar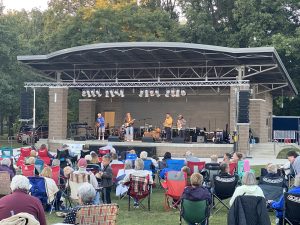 The Fountain City Amphitheater is committed to providing quality experiences to improve the community's quality of life. The Fountain City Amphitheater believes in strong partnerships with local businesses. Together, we can achieve our goal of providing free events to all, while also offering optimal advertising opportunities.
VISIT THE AMPHITHEATER
Seating
Seating is first come, first serve. Leaving blankets, cushions, articles of clothing, ropes, chairs, or items in seating space is not allowed prior to two hours before show time unless otherwise noted.
Parking
There is plenty of free parking available around the amphitheater on the streets as well as parking lots next to Moore Pool, Recreation Park, and Imagination Station.
Handicap Parking
Handicapped Parking is available at the end of Avenue B and in the Imagination Station parking lot. Please ensure your handicap identification is visible.
Picnics
Part of the Amphitheater experience is enjoying a picnic dinner with family and friends. Please note there is no alcohol allowed in the park unless purchased at the park and in the designated area.
Concessions
Many events will have the availability for you to purchase a wide variety of food and drinks from some of Northwest Ohio's best food trucks.
Restrooms
The restrooms are located on the west side of the amphitheater.
Weather
Please follow us on Facebook to stay informed on weather cancellations, delays, and/or event location changes.
RENT THE AMPHITHEATER
Yes! The Amphitheater is available to rent for weddings, corporate events, public/private performances, and more!
2023 Usage and Guidelines

2023 Amphitheater Facility Rental Permit

2023 Amphitheater Facility Beverage Policy

2023 Amphitheater Facility Beverage Request Form

For questions contact Jeffrey Tonjes Fountain City Amphitheater Coordinator at fcamph@cityofbryan.com or call (419) 633-6030
CONTACT US
Fountain City Amphitheater Coordinator: Jeffrey Tonjes
EMAIL: fcamph@cityofbryan.com
AMPHITHEATER ADDRESS: 526 Avenue B, Bryan, OH 43506
MAILING ADDRESS: PO Box 190, 1399 East High Street, Bryan, OH 43506
PHONE: (419) 633-6030  FAX: (419) 633-6035
Fountain City Amphitheater Sponsors receive community recognition as supporters of the arts, music, theater, and other programs held at the amphitheater.  Sponsorship opportunities are designed to serve as an opportunity for sponsors to increase their brand exposure through a variety of advertising/marketing avenues. Listed below are descriptions of each sponsorship options along with the expenses and unique bonuses associated with each.
Learn more on how you can become a Corporate Sponsor for our 2023 Summer Season!
2023 Booster Club Members
Business Fountain Booster Club Members
Join Today!
Family Fountain Booster Club Members
Join Today!
Individual Fountain Booster Club Members
Join Today!
Fountain City Amphitheater Gallery
Project 2020 Shareholders
| | |
| --- | --- |
| Mike & Dina Culler | Glen & Ann Newcomer |
| Christopher & Elizabeth Cullis | Chad & Diana Savage |
| Damian & Dr. Carolyn Dorsten | Michael & Jane Shaffer |
| Dr. Jon & Dr. Laura Eckhardt | Bill & Pam Steel |
| Phil & Mary Ennen | J.T. & Georgia Stelzer |
| George & Robin Gardner | David Swanson |
| Dr. Craig & Bernadette Herman | Chad & Dr. Jodi Tinkel |
| Renee Isaac | Kirk & Sarah Vashaw |
| Dr. Jason & Meg Kunsman | Howard & Ann Vreeland |
Randolph & Naomi Bard Fund
Dean & Ann Spangler
Kevin & Stacey Bock
Jesse & Heather Teegarden
Tim & Meg Herman
Mike & Jennifer Winzeler
Jayne & Roger McKelvey
Kirk & Sara Yosick
Mitchel & Rhonda Owens
Bryan Area Foundation
Carol Schreder
Power in the Purse
State of Ohio through the OFCC
To learn more about Project 2020 visit their website www.bryanareafoundation.org/2020-club/
Fountain City Amphitheater Committee
| | |
| --- | --- |
| Mike Shaffer, Project 2020 Implementation Chair | Amy Miller, Bryan Area Foundation |
| Scott Benedict | Karin Bowers |
| Jim Funderburg | Mike Jacobs |
| Scott Kraemer | Georgia Stelzer |
| | |
| Jeffrey Tonjes, FCA Coordinator | Ben Dominique, Bryan Parks and Rec |
Interested in performing at the Amphitheater?