Established in 1848, Fountain Grove Cemetery includes approximately 34 acres, providing lots for residents and non-residents of the city. Framed by a beautiful arch at the entrance, the cemetery includes mature trees, open space and a stone mausoleum.
In addition to serving as a final resting place the deceased and a peaceful location for loved ones to visit, Fountain Grove Cemetery is the site of the city's annual Memorial Day Service. The Williams County Library's Local History Center also hosts annual tours, providing insight on gravestones and famous inhabitants.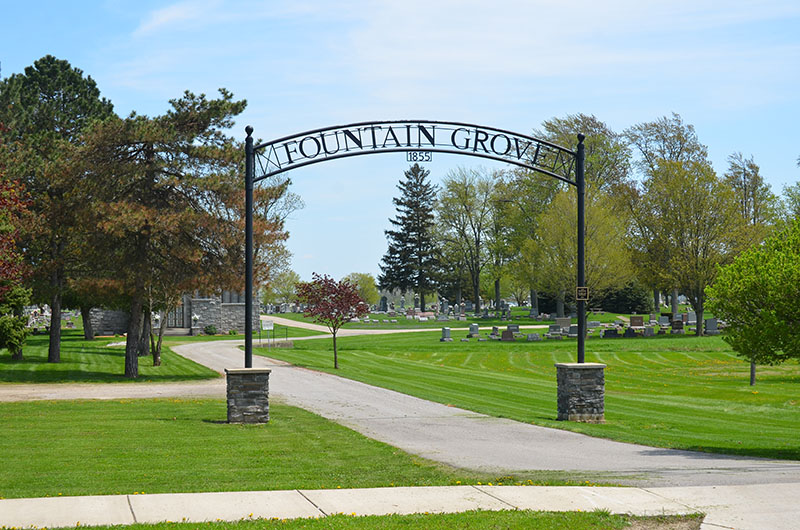 Fountain Grove Cemetery is located on the corner of South Main Street and Fountain Grove Drive, at the south end of the city. The cemetery is open sunrise-sunset.
To inquire about availability of a lot or for more information on allowable decorations, please contact the City of Bryan Street Department at 419-636-8547 or email streets@cityofbryan.com.
Applicable Ordinances & Rates
Ordinances
957.01 LIST OF LOT OWNERS; LOTS NONTRANSFERABLE
The Clerk-Treasurer shall list the names of every owner of lots in the Bryan Fountain Grove Cemetery. Lots are nontransferable. (Ord. 33-1961. Passed 11-20-61.)
957.02 EVIDENCE OF NONTRANSFERABILITY; RETURN OPTION
The Clerk-Treasurer shall print on every receipt or other evidence of ownership of a lot in the Bryan Fountain Grove Cemetery the following words: "Lots in the Bryan Fountain Grove Cemetery are nontransferable; the lot or lots evidenced by this instrument can be turned back to Council, and the owner of this receipt shall be reimbursed the purchase price." (Ord. 33-1961. Passed 11-20-61.)
957.03 RETURN OF LOTS; PURCHASE RIGHT
Council shall pay back the purchase price in the event of the surrender of the evidence of ownership or receipt showing payment for a lot or lots. The heirs or assigns of the original owner shall have the first right to purchase any unused portion of lots or lot. (Ord. 33-1961. Passed 11-20-61.)
957.04 RECOGNITION OF OWNERSHIP; RECORDS
No right of ownership in a lot or lots in the Bryan Fountain Grove Cemetery shall be recognized unless that person or persons claiming ownership is recognized as such on the records of the Clerk-Treasurer. (Ord. 33-1961. Passed 11-20-61.)
Rates
957.05 REGULATIONS & RATES 
(a) The following rate schedule shall be implemented for all lots sold and openings dug after June 1, 2007.
(b) The infant's area shall be restricted to use for infants under one year of age.
(c) No burials shall be made on Sundays or holidays unless ordered by the City-County Health Board. (Ord. 14-2007. Passed 5-17-07.)
| Lots | Resident | Non-Resident |
| --- | --- | --- |
| Adult space per grave space | $200.00 | $250.00 |
| Infant's area per grave space (includes footer for headstone) | $150.00 | $200.00 |
| Mausoleum | $350.00 | $400.00 |
| Openings and Closings | Resident | Non-Resident |
| Adult grave Monday-Friday | $225.00 | $275.00 |
| Saturday | $300.00 | $350.00 |
| Crematory urn | $100.00 | $150.00 |
| Infant under one year | $100.00 | $150.00 |
| Crypt end opening | $100.00 | $150.00 |
| Excavate for removal | Double the Opening Amount | Double the Opening Amount |
| Footings for headstones | $265.00 | $265.00 |