Fire Department
The department includes 24 firefighters and covers approximately 70 square miles. Stay updated on local calls and learn helpful safety information by following the department on Facebook & Twitter.
Learn more about the history of our department.
Our Mission
It shall be the mission of the City of Bryan, Ohio, Fire Department to respond to and resolve emergencies that threaten or will threaten the lives and property of the citizens of the city of Bryan, Ohio, and those other areas of Williams County, Ohio, in which we provide fire department services, including our mutual aid areas. The City of Bryan, Ohio, Fire Department shall have as its primary responsibility fire suppression, fire prevention, control of hazardous material emergencies, protection of the environment, response to natural disasters, and the rescue of lost or injured persons. The City of Bryan, Ohio, Fire Department shall also assist, to the best of our ability, other governmental agencies in the completion of their mission. We shall strive to provide the most professionally trained and the most experienced personnel, with the necessary apparatus and equipment to complete this mission, in the most cost-effective manner possible.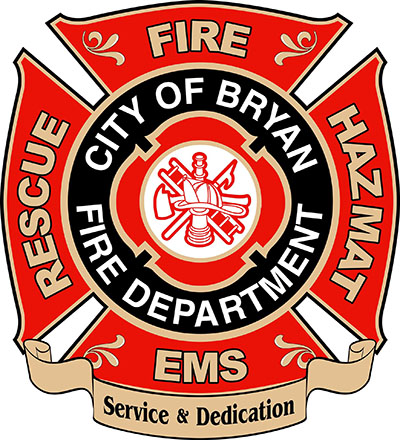 Location & Hours
Our department is located at the City of Bryan Police & Fire Complex at 304 West High Street in Bryan. Our office hours are 7 a.m.-5 p.m., Monday-Friday, and our building is open 24 hours a day, seven days a week.
Fireworks
Ohioans can legally discharge 1.4 G consumer fireworks in Ohio on certain days as listed in Ohio Revised Code (R.C.) § 3743.45
No person can use fireworks while in possesion or control of, under the influence of any, intoxicating liquor, beer or controlled substance.
Additional restrictions on location and time of day are part of the Ohio Fire Code. 
Hours – 4 PM – 11 PM except New Years Eve 4-PM-11:59PM and New Years Day 12AM-1AM; 4PM-11PM
No one under the age of 18 is permited to handle or discharge fireworks .
Aerial devices (includes aerial shells, roman candles, cakes and bottle rockets) cannot be discharged within 150 feet of spectors, anyone under the age of 18 and buildings. The distance from multi-tenenat structures, airports and railroads is 450 feet.
Non-aerial devices cannot be discharged within 50 feet of spectors, anyone under the age of 18 and buildings. The distance from multi-tenenat structures, airports and railroads is 150 feet.
Fireworks cannot be discharged from public property or private schools to include public streets and parks.
Additional requirement are listed in Ohio Fire Code (OFC) § 1301:7-7-56(Z)(5626)
How can I request a fire inspection?
Fire inspections can be scheduled by contacting the department during regular business hours at 419-633-6080.
What is an "approved" fire pit?
 There is a difference between open burning and "approved" fire appliances. The Ohio Fire Code defines open burning as, "the burning of materials wherein products of combustion are emitted directly into the ambient air without passing through a stack or chimney from an enclosed chamber." Most of the commercially available "fire pits" are considered enclosed when used with all screens and chimneys in place. Using one of the fire pits without screens in place is considered open burning. Follow all manufacture's instruction for the safe use of these fire pits. See our open burn permit information.
Who can I contact to have my fire extinguisher serviced?
The department does not inspect or service extinguishers for the public. You should contact a certified fire extinguisher maintenance technician to have your fire extinguishers serviced. We do not recommend specific businesses for this service.
Smoke Alarms
Install a smoke detector on each level of your home, including the basement, and inside each bedroom. if you sleep with the bedroom doors closed, have a qualified electrician install interconnected smoke alarms in each room so that when one alarm sounds, they all sound.
Mount smoke alarms high on the walls or ceilings (remember, smoke rises). Ceiling-mounted alarms should be installed at least four inches away from the nearest wall; wall-mounted alarms should be installed four to 12 inches away from the ceiling. If you have ceilings that are pitched, install the alarm near the ceiling's highest point. Don't install smoke alarms near windows, doors, or ducts where drafts might interfere with their operation. Never paint smoke alarms. paint, stickers, or other decorations could keep the alarms from working.
Consider using dual sensor smoke detectors that combine ionization and photoelectric technology in one unit
Check your smoke detectors monthly and change the batteries at least twice a year
Familiarize children with the sound of your smoke detectors
Do not remove batteries to put in other appliances such as personal stereos or games
If cooking smokes sets off the alarm, do not disable it. Wave a towel, open a window or turn on the range fan to clear the smoke.
Smoke detectors wear out over time. Replace your smoke detectors every 10 years.
Keep smoke detectors clean. Dust and debris can interfere with their operation. Vacuum over and around your smoke detector regularly.
Hard-wired smoke alarms operate on your household electrical current. They can be interconnected so that every alarm sounds regardless of the fire's location. This is an advantage in early warning, because it gives occupants extra time to escape if they are in one part of the home and a fire breaks out in another part. Alarms that are hard-wired should have battery backups in case of a power outage, and should be installed by a qualified electrician. Battery back ups should be changed twice a year.
If you, or someone in your home is deaf or hard of hearing, consider installing an alarm that combines flashing lights,vibration and/or sound.
Children & Fire
Children playing with fire cause hundreds of deaths and thousands of injuries each year. Preschoolers are most likely to start these fires, typically by playing with matches and lighters, and are most likely to die in them. Most of the people killed in child-playing fires are under five, and such fires are the leading cause of fire deaths among preschoolers. Children also start fires by playing with candles, fireworks, stoves and cigarettes. Among fatal home fires started by children playing, seven out of ten involve children igniting bedding, mattresses, upholstered furniture or clothing.
Store matches and lighters out of children's reach and sight, up high, preferably in a locked cabinet
If your child expresses curiosity about fire or has been playing with fire, calmly but firmly explain that matches and lighters are tools for adults only
Teach young children to tell an adult if they see matches or lighters, and teach school-age children to bring any matches or lighters to an adult
if you suspect your child is intentionally setting fires or unduly fascinated with fire, get help. Your local fire department, school or community counseling agency can put you in touch with trained experts.
Space Heaters
Heating equipment is a leading cause of home fires during the months of December, January and February and trails only cooking equipment in home fires year-round.
When buying a new space heater, make sure it carries the mark of an independent testing laboratory and is legal for use in your community
Install your stationary (fixed) space heater according to manufacturer's instructions or applicable codes or better yet, have it installed by a professional
Plug your electric-powered space heater into an outlet with sufficient capacity and never into an extension cord
Use the proper grade of the proper fuel for your liquid- fueled space heater, and never use gasoline in any heater not approved for gasoline use. Refuel only in a well-ventilated area and when the equipment is cool.
Turn off space heaters whenever the room they are in is unoccupied or under circumstances when manufacturer's instructions say they should be turned off. Portable space heaters are so easy to knock over in the dark that they should be turned off when you go to bed, but make sure your primary heating equipment for the bedrooms is sufficient to avoid risks to residents from severe cold.
Do not use your oven to heat your home
Turkey Fryers
National Fire Protection Association (NFPA) discourages the use of outdoor, gas-fueled turkey fryers that immerse the turkey in hot oil. These turkey fryers use a substantial quantity of cooking oil at high temperatures, and units currently available for home use pose a significant danger that hot oil will be released at some point during the cooking process. The use of turkey fryers by consumers can lead to devastating burns, other injuries, and the destruction of property. NFPA urges those who prefer fried turkey to seek out professional establishments, such as grocery stores, specialty food retailers and restaurants for the preparation of the dish, or consider a new type of "oilless" turkey fryer.
Turkey fryers that use oil, as currently designed, are not suitable for acceptably safe use by even a well-informed and careful consumer. Consumers may find packaging of turkey fryers displaying independent product safety testing labels. NFPA is familiar with the details of these test standards and does not believe that they are sufficiently comprehensive regarding the different ways in which harm can occur, and in some cases, regarding the different parts of the turkey fryer that need to be tested.
Candle Safety
More than half of all candle fires started when something that could burn, such as furniture, mattresses or bedding, curtains, or decorations, was too close to the candle. In 20% of the fires, the candles were unattended or abandoned. Almost two -fifths of home candle fires begin in the bedroom, although the candle industry found that only 13% of candle users burn candles in the bedroom most often. December is the peak time of the year for home candle fires. In December, 13% of home candle fires began with decorations compared to 4% the rest of the year.
Smoking Materials
Smoking materials (cigarettes, cigars, pipes, etc.) are the leading cause of fire deaths in the United States. Older adults are at the highest risk of death or injury from smoking-material fires even though they are less likely to smoke than younger adults. The most common material first ignited in home smoking-material fire deaths were mattresses and bedding and upholstered furniture.
If you smoke, smoke outside
Use deep, wide ashtrays on a sturdy table
Before you throw out butts and ashes, make sure they are out. Dousing in water or sand is the best way to do that.
Check under furniture cushions and in other places people smoke for cigarette butts that may have fallen out of sight
Never smoke in a home where oxygen is being used
If you smoke, choose fire-safe cigarettes. They are less likely to cause fires.
To prevent a deadly cigarette fire, you have to be alert. You won't be if you are sleepy, have been drinking, or have taken medicine or other drugs.
Keep matches and lighters up high, out of children's sight and reach
Carbon Monoxide
Often called the silent killer, carbon monoxide is an invisible, odorless, colorless gas created when fuels (such as gasoline, wood, coal, natural gas, propane, oil, and methane) burn incompletely. In the home, heating and cooking equipment that burn fuel are potential sources of carbon monoxide. Vehicles or generators running in an attached garage can also produce dangerous levels of carbon monoxide. The dangers of CO exposure depend on a number of variables, including the victim's health and activity level. Infants, pregnant women, and people with physical conditions that limit their body's ability to use oxygen (i.e. emphysema, asthma, heart disease) can be more severely affected by lower concentrations of CO than healthy adults would be. A person can be poisoned by a small amount of co over a longer period of time or by a large amount of co over a shorter amount of time. 
Install CO alarms (labeled by a recognized laboratory) inside your home to provide early warning of accumulating CO. Alarms should be installed in a central location outside each separate sleeping area. If bedrooms are spaced apart, each area will need a CO alarm.
CO alarms are not substitutes for smoke alarms. Know the difference between the sound of smoke alarms and CO alarms.
Test alarms at least once a month and replace alarms according to the manufacturer's instructions
Have fuel-burning heating equipment (fireplaces, furnaces, water heaters, wood and coal stoves, space or portable heaters) and chimneys inspected by a professional every year before cold weather sets in
If you need to warm a vehicle, remove it from the garage immediately after starting it. Do not run a vehicle, generator or other fueled engine or motor indoors, even if garage doors are open. Make sure the exhaust pipe of a running vehicle is not covered with snow.
During and after a snowstorm, make sure vents for the dryer, furnace, stove and fireplace are clear of snow build-up
If your CO alarm sounds, immediately move to a fresh air location outdoors or by an open window or door, and call for help. Remain at the fresh air location until emergency personnel say it is ok.
If the audible trouble signal sounds, check for low batteries or other trouble indicators
Engine 21, 1999 Sutphen Engine, 1500 GPM Single Stage Pump, 1,000-Gallon Water Tank, 30-Gallon Foam Cell
Engine 22, 1979 Mack, Rebuilt in 1989 by Summit Fire Apparatus, 1,000 GPM Waterous Two-Stage Pump, 750-Gallon Water Tank, 30-Gallon Foam Cell
Engine 23, 1984 Ford/Pierce, 1,250 GMP Waterous Single Stage Pump, 1,000-Gallon Water Tank, 30-Gallon Foam Cell
Engine 24, 2011 Sutphen Engine, 1500 GPM Single Stage Pump, 1,000-Gallon Water Tank, 30-Gallon Foam Cell
Rescue 25, 1987 GMC/Summit, Heavy Rescue Unit
Tower 27, 1994 Sutphen, 100-ft. Aerial Platform, 1,500 GMP Hale Single Stage Pump, 300-Gallon Water Tank
Truck 28, 2002 Dodge Ram 3/4 Ton 4-Wheel Drive, 250 GMP Waterous Single Stage Pump, 166-Gallon Water Tank
Tanker 26, 2004 International/ S&S Fire Apparatus TAnker, 500 GMP Waterous Single-Stage Pump, 2,100-Gallon Water Tank, (2) 2,100 gallon Fold-a-Tank Portable Water Tanks
Haz-Mat-1, 1988 International/Mickey Body, Hazardous Material Team Response Unit
Foam 20, 1996 Ford F-350, Carries Foam Concentrate and Foam Generating Equipment, Support Vehicle for Extended Operations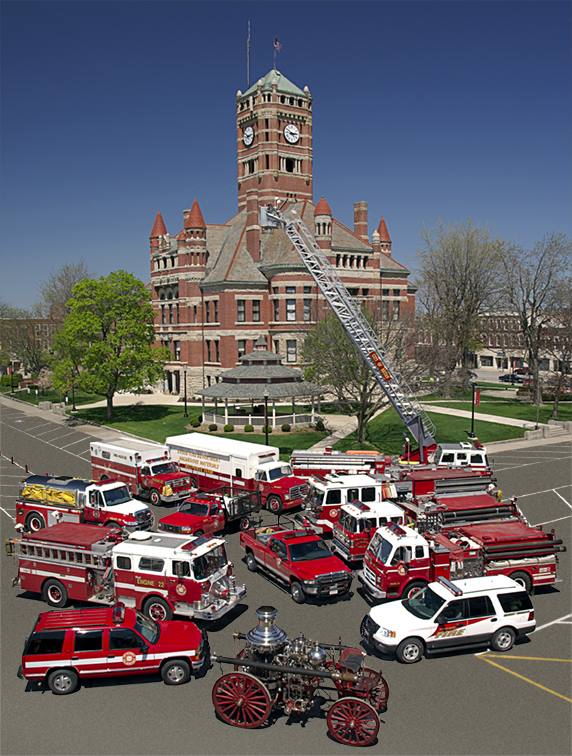 Be part of the community. Be part of the excitement. Be part of the tradition. Applications are now being accepted for paid, on-call firefighters. Contact Fire Chief Douglas Pool for more information at 419-633-6080, Monday-Friday, 8 a.m.-3 p.m.
No previous experience necessary. Department provides all training.
Supportive staff and mentoring program
Must be at least 18 years of age, be self-motivated and eager to learn
Must have a high school diploma or GED and valid driver's license
No felony convictions or misdemeanors permitted
Must be physically fit to perform strenuous duties
1. Flashover Container
2. Rest Room
3. Drafting Pit/Pump Test Tank
4. Storage Building (HazMat Training)
5. Semi-Trailer
6. Confined Space Training Area (Under Ground)
7. Confined Space Training Area (Above Ground)
8. Flammable Liquids Firefighting Pit
9. Roof Simulator
10. Storage Container
11. Chlorine Tank Leak Simulator
12. Search and Rescue/SCBA Mask Confidence Course Building
13. Shelter/Outdoor Classroom
14. Burn Building/Training Tower
15. Railroad Tanker Car
16. Control Tower for Natural Gas Simulators
17. Natural Gas Firefighting Simulators
18. Vehicle Fire Simulator
19. Student Parking Lot
20. Vehicle Extrication Pad
21. Flat Roof Ventilation Simulator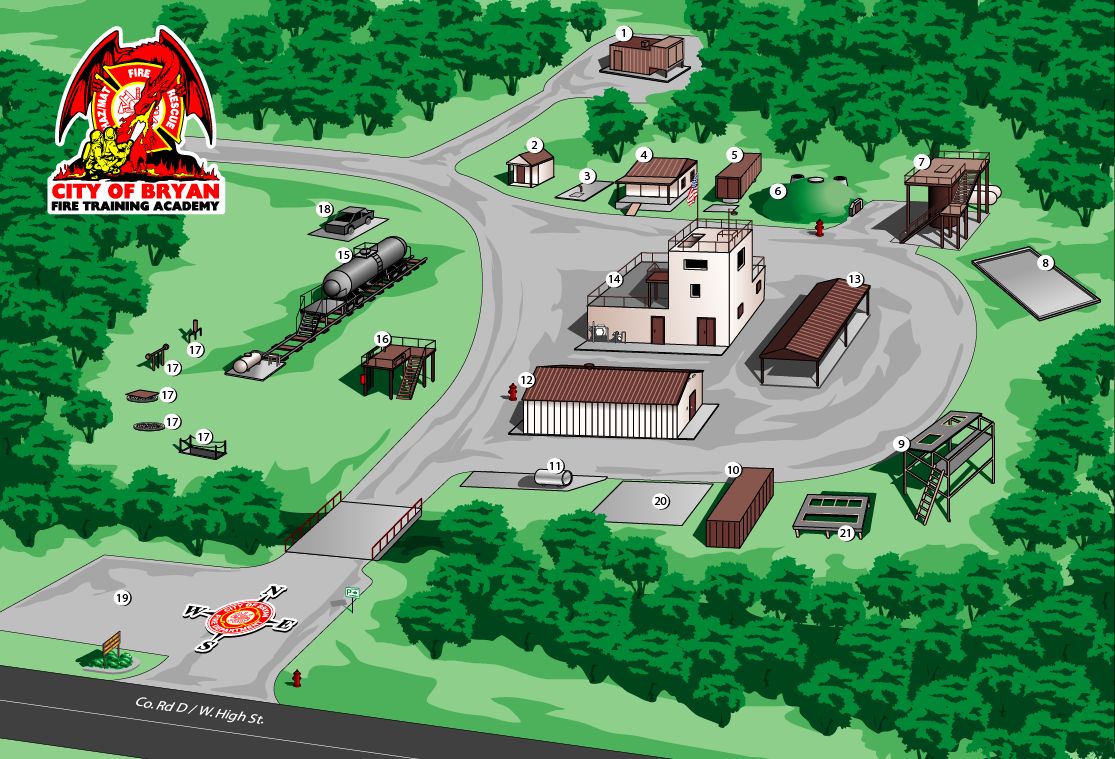 Underground Storage Tanks
The City of Bryan Fire Department has been given delegated authority by the Ohio Fire Marshal for all underground storage tanks in our fire district. All applications and permits for underground storage tanks must be filed through our office. If you have any questions please feel free to contact us.