The Details
Start:
July 08, 2023 @ 8:00 pm
End:
July 08, 2023 @ 9:30 pm
Add to Your Calendar:
ICAL
Venue
Fountain City Amphitheater
526 Avenue B
Bryan, OH
---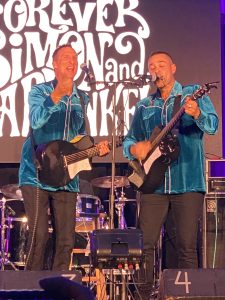 Celebrating the bestselling duo in rock'n'roll history with humor, soaring energy, charm, and laser precise harmonies, Forever Simon & Garfunkel will lead you on a journey from the groups early success as a folk act to their global dominance as hit-makers through the best of Paul Simon's solo career. Iconic songs include The Sounds Of Silence, Bridge Over Troubled Water, Mrs. Robinson, and many more! Award-winning singer-songwriters Sean Altman (Rockapella) & Jack Skuller (Songwriters Hall Of Fame's Buddy Holly Prize) bring this remarkable show to the stage.
The Fountain City Amphitheater strives to bring high quality acts, and this year we have added more events. Free of charge, but we can't do this without YOU! Please take a moment and consider becoming a Corporate/Individual Sponsor and/or a Fountain Booster Club Member. For more information on how to become a sponsor or a part of the booster club visit
www.cityofbryan.com/fcamphitheater/
The FOUNTAIN CITY AMPHITHEATER is Bryan's newest venue thanks to the Project 2020 Club and the Bryan Area Foundation. The Fountain City Amphitheater is a central gathering place for many community and cultural events!
We hope to see you at the Amphitheater this 2023 season!