The Details
Start:
June 11, 2021 @ 8:30 pm
End:
June 11, 2021 @ 11:59 pm
Add to Your Calendar:
ICAL
Venue
Fountain City Amphitheater
526 Avenue B
Bryan, OH
---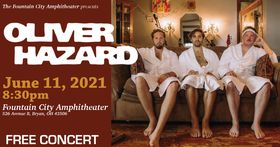 The story of Oliver Hazard is the digital age's version of classic band myth making. One member of the band returned to Ohio after leading camping trips in California and decided to make an album with two of his childhood friends, a door-to-door salesman and a construction worker. They won a Facebook raffle to record a single song at a recording studio. Instead, they pitched playing their whole album straight through once, and so came their debut album 34 N River. They sent it to a friend who sent it to a friend, who sent it to The Fader, who called it a "folk-pop masterpiece." The band was booked at Bonnaroo and Mountain Jam shortly thereafter.