The Details
Start:
July 09, 2021 @ 8:00 pm
End:
July 09, 2021 @ 10:00 pm
Add to Your Calendar:
ICAL
Venue
Fountain City Amphitheater
526 Avenue B
Bryan, OH
---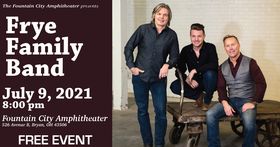 Enjoy and evening of music at the Fountain City Amphitheater with the Frye Family Band. "Inspiring, encouraging, entertaining" – these are a few words frequently used to describe the Nashville based Frye Family Band. From their tight harmonies and light-hearted toe-tapping songs, to those that will stir your soul, the Frye Family Band shares their music and message with admirable transparency and relentless hope.
Don't forget your favorite lawn chair or blanket.