The Details
Start:
May 19, 2023 @ 8:00 pm
End:
May 19, 2023 @ 9:30 pm
Add to Your Calendar:
ICAL
Venue
Fountain City Amphitheater
526 Avenue B
Bryan, OH
---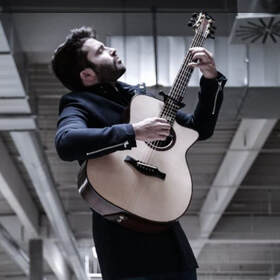 With his music videos having Internet views exceeding 200 million and booking in every corner of the globe, Luca Stricagnoli is considered to be one of the most unique guitarists in the world. His music gave him the chance to play in over 20 countries, in front of up to 12,000 people, and grabbed the attention of famous bands such as Red Hot Chili Peppers, Metallica, and Walk Off The Earth.
The Fountain City Amphitheater strives to bring high quality acts, and this year we have added more events. Free of charge, but we can't do this without YOU! Please take a moment and consider becoming a Corporate/Individual Sponsor and/or a Fountain Booster Club Member. For more information on how to become a sponsor or a part of the booster club visit
www.cityofbryan.com/fcamphitheater/
The FOUNTAIN CITY AMPHITHEATER is Bryan's newest venue thanks to the Project 2020 Club and the Bryan Area Foundation. The Fountain City Amphitheater is a central gathering place for many community and cultural events!
We hope to see you at the Amphitheater this 2023 season!