The Details
Start:
May 22, 2021 @ 12:00 pm
End:
May 22, 2021 @ 10:00 pm
Add to Your Calendar:
ICAL
Venue
Fountain City Amphitheater
526 Avenue B
Bryan, OH
---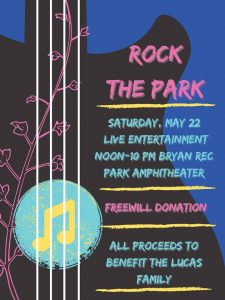 The idea for this benefit originated with these students who are friends of Calia and Tavis Lucas.
This group is composed of student musicians in grades seven thru twelve at Bryan City Schools. This ensemble performs a number of musical genres from classic rock, alternative rock, 80s pop, indie rock, country and reggae to name a few. A few of the student musicians write and perform their own music as well. This ensemble meets during the school day and outside of school based on need.
A special thank you to orchestra director, Brandon Gordon.
Rock the Park!
Sponsored by the Joyce Reader Memorial Foundation
May 22
Noon – 10 pm
Fountain City Amphitheater
526 Avenue B
Bryan, Oh
1:45 – 3:15 pm
Moore Park Buzzards
3:30 – 5:30 pm
BHS Alt Strings
5:45 -7:15 pm
60s Survivors
7:30- 9:00 pm
Nikki D and the Brown Sisters
The event is part of the Fountain Amphitheater Rental program