The Details
Start:
June 24, 2023 @ 8:00 pm
End:
June 24, 2023 @ 10:00 pm
Add to Your Calendar:
ICAL
Venue
Fountain City Amphitheater
526 Avenue B
Bryan, OH
---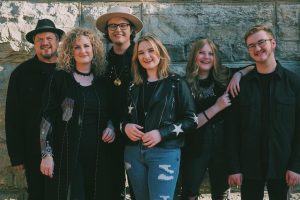 Rockland Road is six musicians who share the last name Martin—representing four generations of musical heritage. It is a powerhouse group featuring soulful vocals imbued with a pure, exuberant joy worthy of the talented blood that flows through this family's veins. Grammy-winning artist x Martin, lead singer/guitarist of country-pop supergroup Exile, met and married Jamie Allen, daughter of Duane Allen, a member of Country Music Hall of Fame gospel group The Oak Ridge Boys, and Grand Ole Opry background singer Norah Lee Allen. Individually and collectively, Paul and Jamie's four children were exposed early to a rich musical existence, and they watched as each child demonstrated God-given musical talent early on. Day in the Park Fireworks directly following the concert!
The Fountain City Amphitheater strives to bring high quality acts, and this year we have added more events. Free of charge, but we can't do this without YOU! Please take a moment and consider becoming a Corporate/Individual Sponsor and/or a Fountain Booster Club Member. For more information on how to become a sponsor or a part of the booster club visit
www.cityofbryan.com/fcamphitheater/
The FOUNTAIN CITY AMPHITHEATER is Bryan's newest venue thanks to the Project 2020 Club and the Bryan Area Foundation. The Fountain City Amphitheater is a central gathering place for many community and cultural events!
We hope to see you at the Amphitheater this 2023 season!
Exclusively Sponsored by