June 25th Concert Postponed!
UPDATE: Our June 25th Girl Named Tom Concert for June 25th has been postponed. The City and the Fountain City Amphitheater have been working to reschedule this concert with Girl Named Tom's management team all day. We hope to have it rescheduled soon. We wish them a quick recovery!
A Message from Girl Named Tom!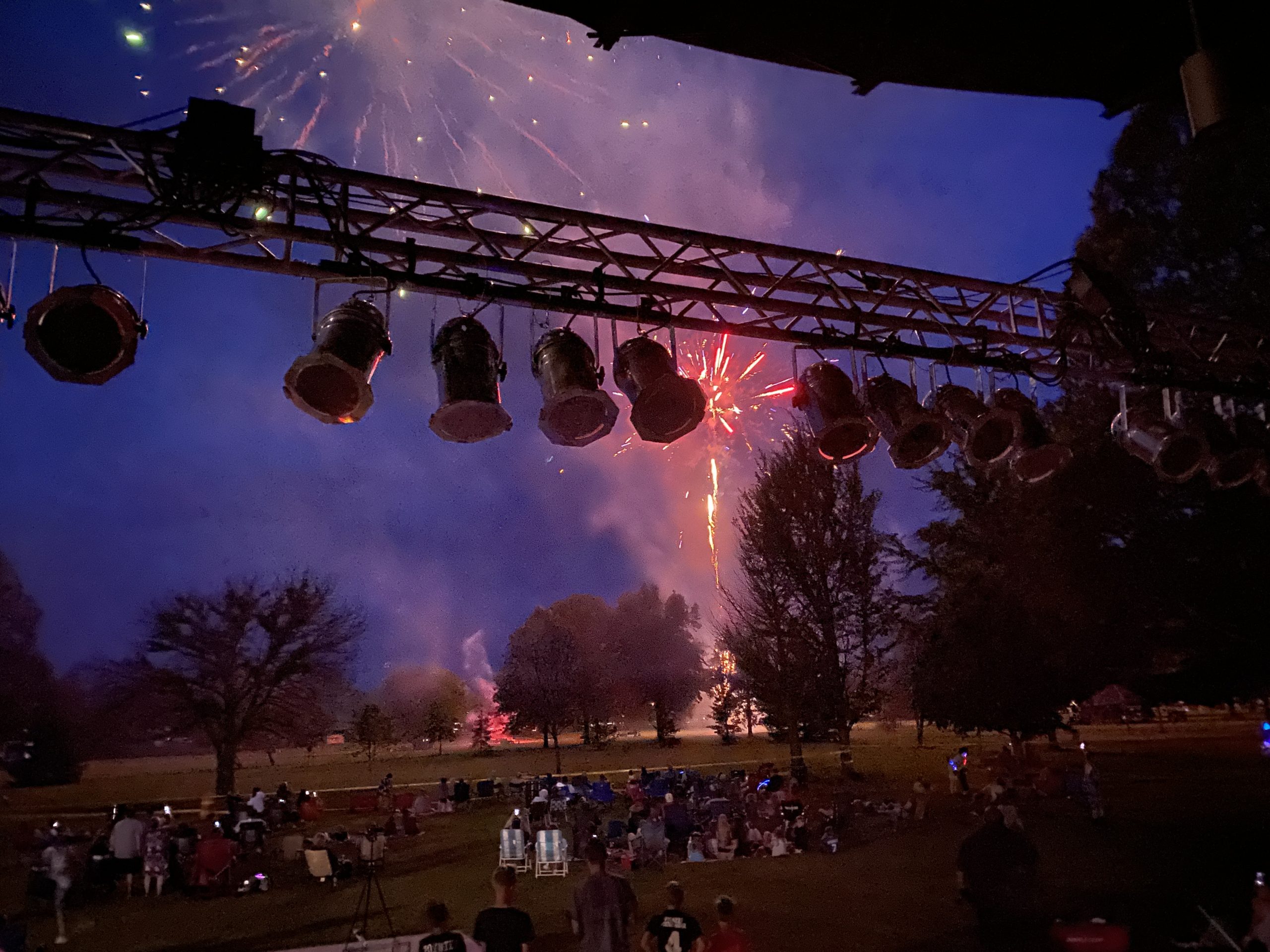 Girl Named Tom Concert and Day in the Park
Event Information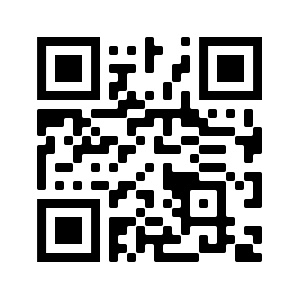 Stay updated with our Girl Named Tom concert and all Day in the Park activities by scanning the QR Code or texting us at 31389 with the message "Join GNTConcert"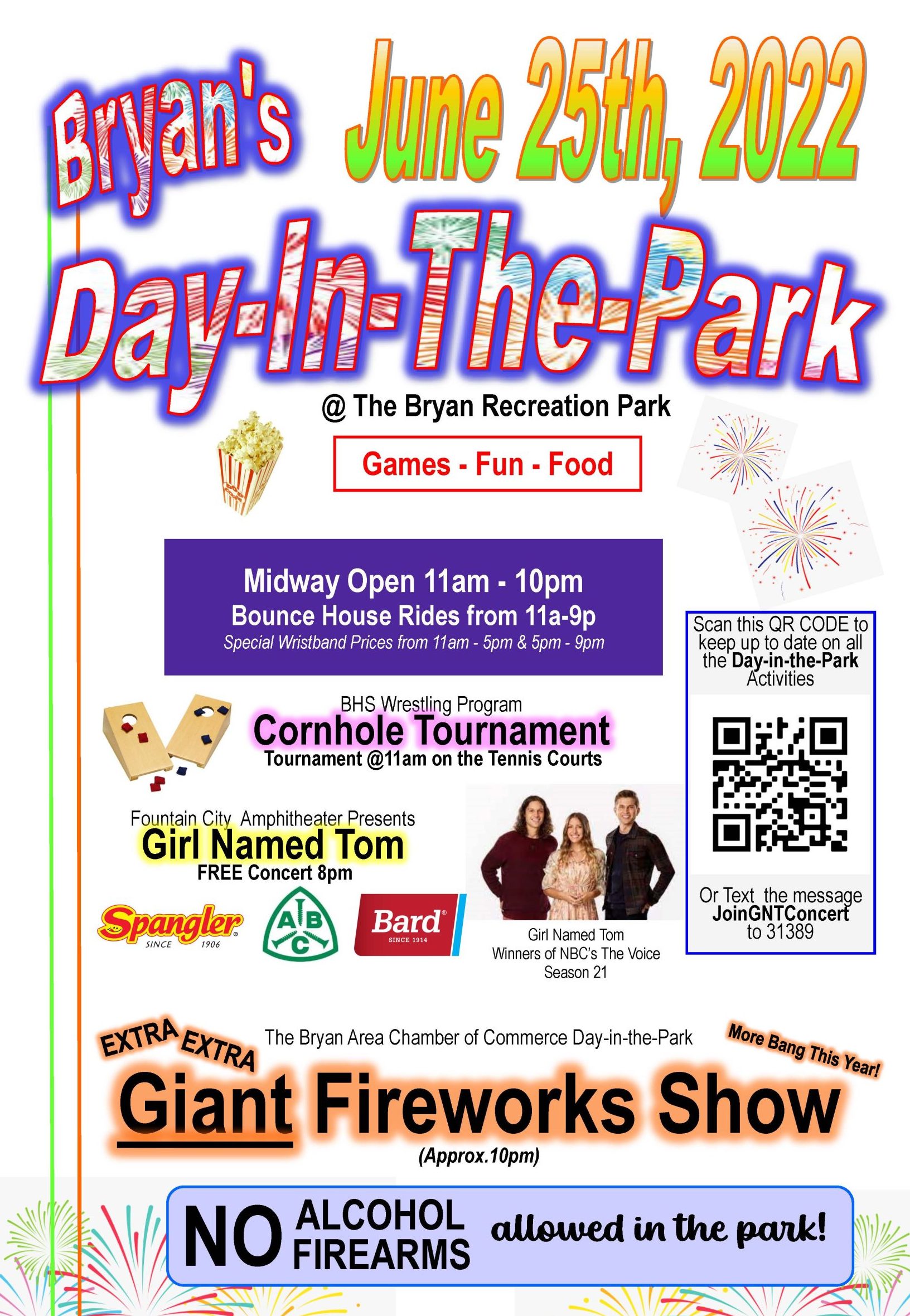 The Bryan Area Chamber's Day in The Park – Games, Fun and Food
MIDWAY HOURS: 
Midway Open 11:00 AM – 10:00 PM
Rides, Blow Ups, Obstacle Courses Open 11:00 AM – 9:00 PM
RIDE COSTS:
Tickets: $1 
Wristbands: $20 each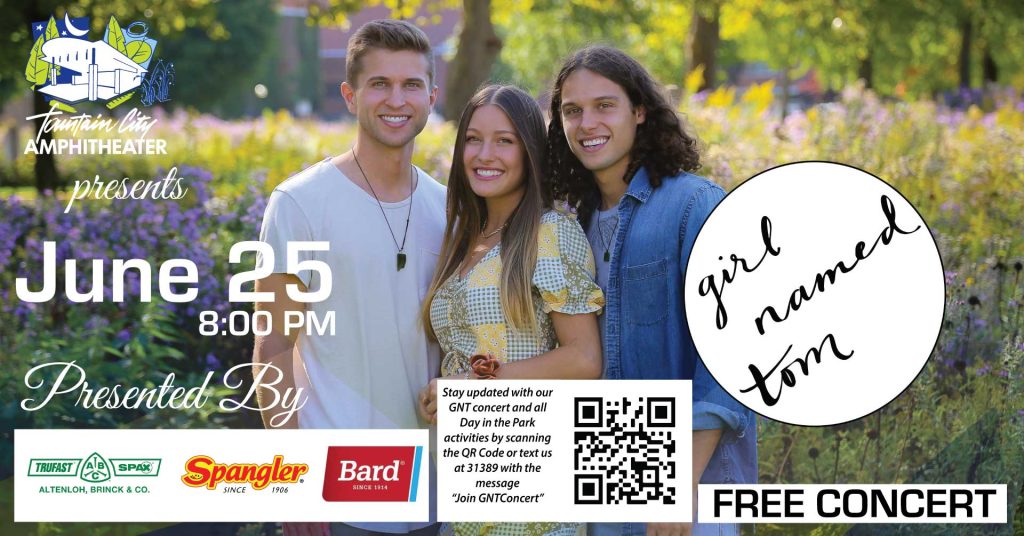 There are no tickets needed for this concert. Don't forget to bring your lawn chair. Seating begins on June 25 at Noon. Seating set up prior to NOON may be subject to be removed by Park staff.
Fountain City Amphitheater's
Girl Named Tom Concert 
526 Avenue B, Bryan, OH 43506
Presented by Altenloh, Brinck and Company and Bard Manufacturing Co. and Spangler Candy Company
Hot off NBC's the Voice, Pettisville natives, Joshua, Bekah and Caleb Liechty otherwise known as "Girl Named Tom" will be performing one of their only 2022 Northwest Ohio Concerts at the Fountain City Amphitheater on June 25, 2022 beginning at 8:00 PM. Girl Named Tom's sound is built on the palpable voice of Bekah Grace and her two brothers' beautiful sibling harmony. While their original repertoire is full of variety, the acoustic instruments and sweet vocal blend put them with acoustic pop/singer-songwriter music. Their style combines the classics (Joni Mitchell; Crosby, Stills & Nash) with artists of today (Taylor Swift, The Wailin' Jennys, Adrianne Lenker). Girl Name Tom will end Saturday's Day in the Park festivities followed by a firework show that will light up the Amphitheater sky! Fireworks sponsored by the Bryan Area Chamber of Commerce. Girl Named Tom won the 2021 NBC's The Voice.
Concert Rules
Chairs may not be set up in the concert viewing area until Noon on June 25
No Canopies or Umbrellas
No Firearms
No coolers in the concert viewing area – Coolers MUST stay in your vehicle
No Alcohol
No Pets
No Drones
All Property is subject to search by law enforcement
Parking Map
(click image to make bigger)
Please note: The Parking at Washington and Ice Rink Parking will open at 4:00 PM. Some parking lots may have a minimal cost to park.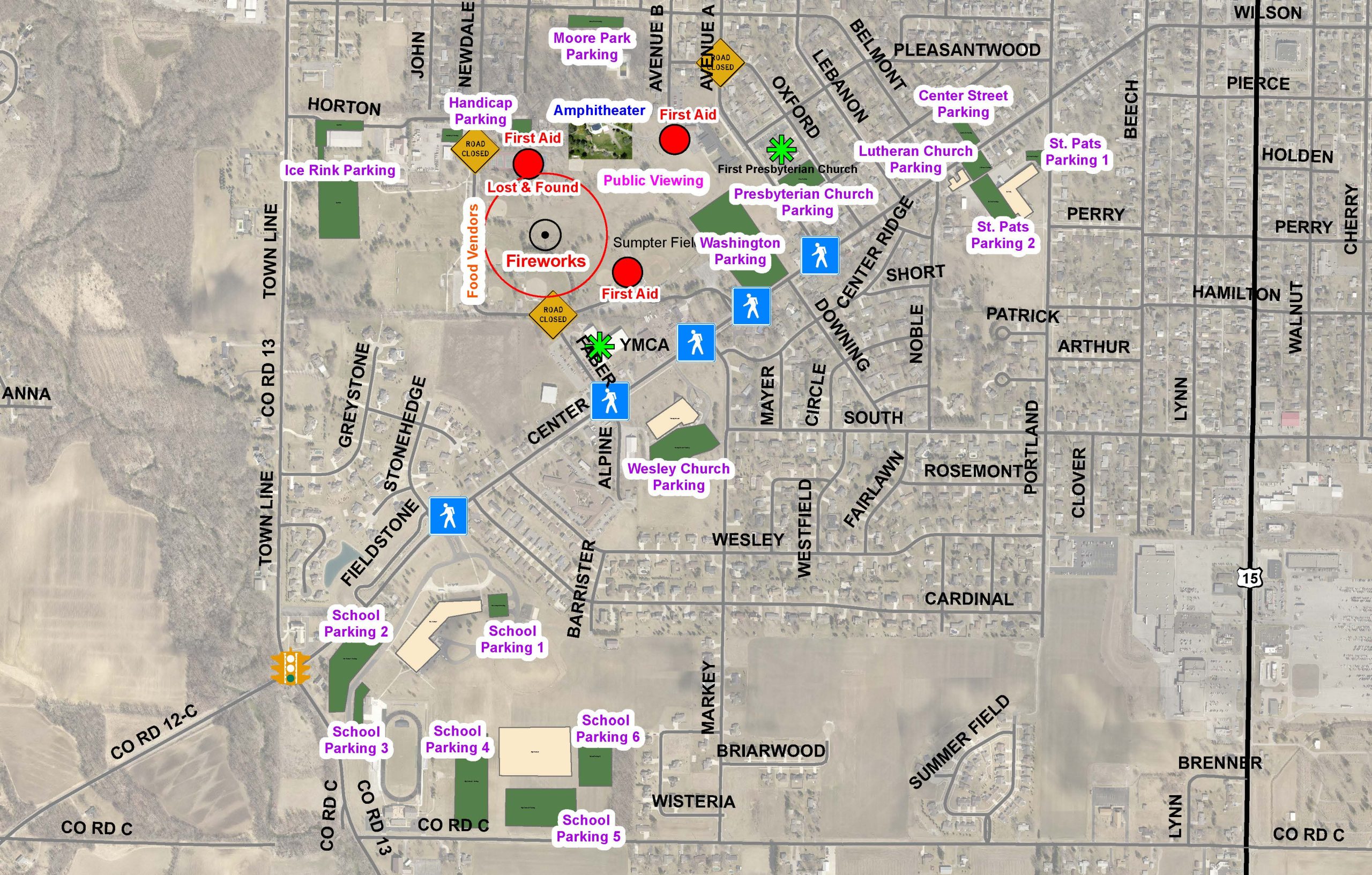 Traffic Flow Map Following Concert
(click image to make bigger)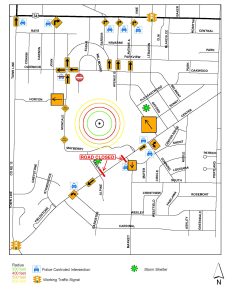 Please only park in designated parking spots or lots. If you don't your car may be towed!
Towing Companies Used for this Event are:
Bob's Service Center (419)636-4288
John's Towing & Repair Service (419)636-1757
Hutch's Towing & Recovery Services (419)485-4210
Worthington Body Shop (419) 485-5464