Article Source: Bryan Times
Author: Max Reinhart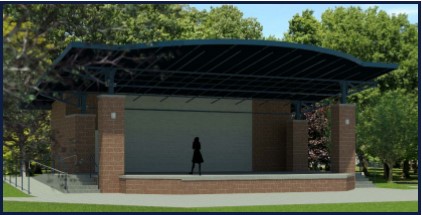 Committee members have selected a spot for a future amphitheater and interactive fountains in Bryan. And officials are hopeful the new attraction will be in use as early as this fall.
"We've identified a location," said Mike Shaffer, a committee member and shareholder at large with the Project 2020 initiative. "In Bryan Rec Park, near Moore Park, very near the bathroom near the Imagination Station."
Kent Purk, a partner with the Defiance architecture firm of Beilharz Architects, has worked on design of the feature, which Shaffer said includes a raised stage approximately 38 feet wide and 34 feet deep.
He added that, "the plan right now" is to also install an interactive fountain with 15 lighted jets that "dance," adjacent to the amphitheater.
By the end of January, the project will be put out to bid with a contractor selected by the end of spring. Construction is projected to take place over the summer with completion around the end of the season.
Shaffer said the "first full season" of use will be 2021, but it could potentially be used during the fall, depending on weather and interest.
The city is helping the committee with event planning and soliciting service clubs to coordinate possible future events at the amphitheater.
Shaffer also said the city has agreed to assist with upkeep and maintenance of the new attraction and has been working on some improvements to the park ahead of the amphitheater's construction. In August 2019, for instance, council accepted a $15,000 donation from the Bryan Rotary Club for needed improvements to pavilions at Moore Park. Mayor Carrie Schlade said plans include updating the nearby restrooms as well.
"We're excited to have this project take flight," Schlade said. "It's a big investment in our parks and in our community."
Project 2020 originated in 2009 when a group of area residents came up with idea to build money over time in order to finance a single, major project in the Bryan area.
In 2017, the Bryan Area Foundation, which has helped oversee the initiative, put out a call for possible ideas to put the money to good use. Shaffer said the committee met last month and was unanimous in making the final recommendation.
In November 2018, Shaffer announced the $260,000 raised by the project would go toward an amphitheater and interactive fountain.
The total amount raised does not cover the entire cost of the project, but Shaffer said the committee is in talks with State Rep. Jim Hoops and State Sen. Rob McColley to secure state money to complete the financing.